Following the co-acceleration program with Toyota Tsusho & Allianz France, we are excited and proud to continue working with Toyota Tsusho Corporation and explore the opportunity for eBikeLabs to enter Asian micromobility market.
Over the past two years, the Asia-Pacific sharing bike sector has enjoyed an influx of investment, allowing as many as 60 platforms to build up bike fleets. In fact, Asia has been the leading pioneer in the micromobility world, with China being the first country to implement a dockless bike-sharing platform in 2015. Shared bikes are now the third most popular mode of public transit in China. Other Asian countries, including Singapore, Taiwan, and South Korea are also seeing much success within the micromobility market.
Though many bike sharing companies raked in millions of dollars through investors, many are still struggling to keep their businesses. Companies report theft, vandalism and operational costs as main challenges to reach sustainable profitability.
eBikeLabs helps ebike sharing mobility operator to reduce theft rate and operational costs by delivering invisible anti theft and minimized maintenance. We see Asian market as a big opportunity and we're excited to have Toyota Tsusho as a partner in our way to explore the market. In order to meet main players in Asian  micromobility market, we're exhibiting at ITS World Congress in Singapore this week. Visit us at Toyota Tsusho booth A05!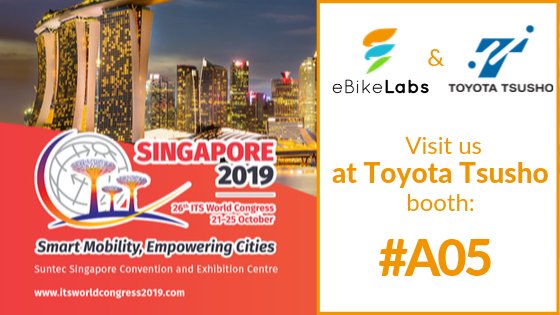 About ITS Congress 2019: Themed Smart Mobility, Empowering Cities, 26th Intelligent Transport Systems World Congress, the world's leading transport technology congress, will arrive at the shores of Singapore from 21 – 25 October 2019. Join over 10,000 participants from all over the world in business sessions, interactive workshops, trade association meetings, VIP meetings, networking events, social and technical tours and live demonstrations. Find out more at www.itsworldcongress2019.com
References: