For sturdier shared e-bikes
eBikeOS is an operating system for urban e-bikes. Its Artificial Intelligence allows shared e-bikes designers to build reliable, robust vehicles that generate ROI right from design, reduce power consumption, and let your clients minimize repair costs. eBikeOS consists of Core Software that manages the e-bike hardware and software and coordinates the internal processes. And Applications that come on the top of Core Software. They are optional, flexible, and evolutive thanks to continuous rich data analysis.
Bring
intelligence to
your e-bikes
Core Software controls the battery and motor in real-time. It performs smooth motor control, real-time onboard diagnostics of electrical components, and remote software updates.
Core Software guarantees the system reliability and safety with the EN 15194 standard. Extending eBikeOS with Applications brings the best innovation to your bikes and users.
Smooth motor control
Field Oriented Control, high-efficiency, very low noise, sensored or sensorless.
Optimized maintenance
On-board state of health of e-components and real-time problem detection. When a problem is detected, you know precisely its root cause and can quickly solve it.
Remote software updates
Remote software upgrades and updates to introduce new features or fix problems.
Treat your riders with the best innovations and perfect ride feeling performance – even without a mechanical gearbox or display. They will ask for more. The assistance feeling is unique and tailored to your requirements. And you will always be in control with our adaptable parameters.
We're continually improving the App, bringing more features with the latest technology, guaranteeing you stay on top of the competition.
Software Torque Sensor
Smooth ride feeling without a physical torque sensor. Its smart sensors adapt the assistance to the cyclist pedaling power in real-time. Patented technology.
Software Gearbox
Effortless pedaling regardless of slope or terrain without assist mode selector and mechanical gearbox.  No more buttons or shifters! Riders can just hop on the bike and enjoy the ride. It also includes a software silencer that enables quiet motor work. Patented technology.
SDK Ride Feeling
Tools to customize the parameters for your unique Ride Feeling in a fully autonomous environment.
Protect
e-bikes and
riders
Give your riders a break from the hassle of hardware locks! With eBikeSafe users can activate/deactivate the smart locking system via smartphone or/ and simply by removing the battery. This makes it easier and faster to secure e-bikes, especially for shortstops. 
eBikeSafe also reinforces the security of your riders by providing a safe and fun braking experience. We're continually improving the App, bringing more features with the latest technology, guaranteeing you stay on top of the competition.
Software Lock
Unbreakable smart lock without battery consumption and any weight. It works even if the battery is removed from the bike. Patented technology. 
Software Brake
Reliable e-brakes that boost efficiency without wear. Its smart sensors autonomously activate the speed limiter on downhill and apply the electrical braking whenever the rider brakes. 
Software Coaster Brake
Speed control with the legs that allows riders to slow down by simply pedaling backward. The harder cyclists push back, the more braking power is applied, similar to one-pedal driving for Tesla.
Secure communication & Regulation compliance
Communication
eBikeOS communication is based on CANopen and provides highly flexible configuration capabilities.
Important communication, like parameter modification, is encrypted so the system remains secure at all times.
Controller updates
eBikeOS can receive updates/upgrades via the CAN bus.
We provide the procedure and the related tools to ensure safe and secure updates.
Compliance with regulations
EN15194-2017
ISO13849-2015
Your
innovation,
our support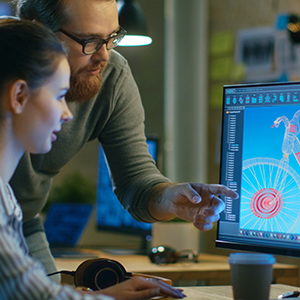 Client support
Simplicity, reactivity and efficiency are the key to successful relationships. This is why we base our support on high quality service level agreements (SLA) with short acknowledgment time and optimized relief time. This guarantees our expert team will always be there for you and that we will put all the effort to solve any issue quickly and sustainably.
eBikeOS and controller PCB
As we want to offer our customers flexibility, eBikeOS is not bound to a specific hardware controller. You may choose between making your own controller hardware, or buying compatible hardware from our industrial partner.
If you choose to make your own controller, we will provide you with the technical hardware requirements for a seamless eBikeOS integration.
eBikeOS and e-bike motors
The eBikeOS Core Software is compatible with any hub motor (for example, Bafang, Ananda, TDCM). It is also compatible with mid-drive motors through custom development projects.
Some Applications require specific hardware compatibility. For more information, please contact us. 
Do you want to know more about our AI technology?