Bike sharing schemes are flourishing these years and the constant quest for proposing the most accurate transportation mode for every short to mid-range mobility needs obviously lead to consider ebikes. If these is a new way to ease urban mobility electric bikes bear specific components and technology that still very few bike mechanics are able to handle efficiently. What if your fleets count thousands of ebikes?
Even if you get highly trained people, it can still be a mess in case of sudden breakdown discovered on the flow by flying maintenance teams. What is the problem? How can I test this? How will I actually fix this? No need to say that those issues constantly grow with the size of the fleet.
Instead of considering the maintenance of ebike time consuming, eBikeLabs made the choice to use the embedded technology to ease ebike maintenance and even make ebike fleet more reliable and profitable. Here is a quick view on how CMMS might help to handle both predictive and corrective maintenance, to monitor the maintenance workflow and get a glance of the general health level of your fleets, anytime, anywhere.
Relying on a 24/7 remote diagnostics, the CMMS allows any bike of the fleet to communicate with the fleet operator's IT and to provide accurate information on the status of the drive system, the battery, the display and the controller. Appropriate sensors thus monitor critical criterias such as electrical currents, temperatures, power level…
As soon as a problem is detected, the information is collected and dispatched through any relevant department : fleet manager back-office, maintenance team mobile tablets, riders' smartphone.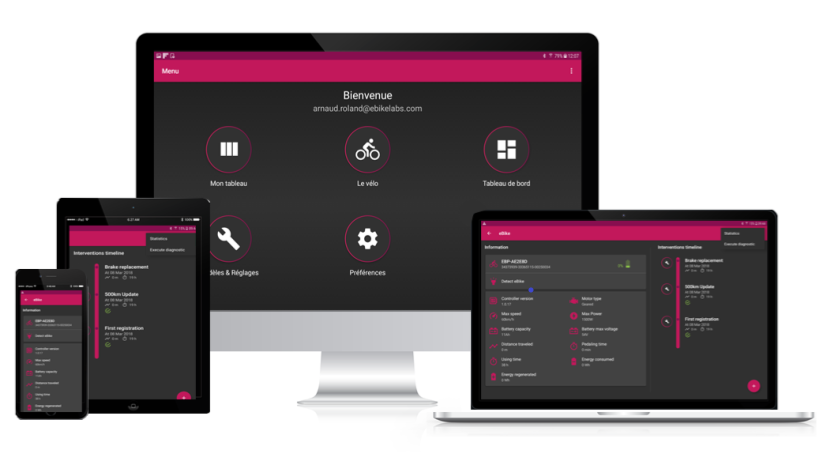 ACCURATE AND RELEVANT INFORMATION FOR ALL DEPARTMENTS INVOLVED
Fleet manager :
View all bikes status : breakdown, ongoing workshop tasks, fleet availability.
Get accurate reporting for financial, operation, after-sales matters.
Manage maintenance teams and workflow.
Maintenance Workshops :
Service ticketing.
Get an immediate backend alert if somethings goes wrong on bikes.
Process a remote diagnostics using a mobile device.
The nature of the problem and the associated spare part are identified by the system.
A step-by-step fixing tool helps technicians to process rapidly, avoiding exhausting and time consuming cross tests to find out where the problem is.
Routine bike maintenance operations can also be mentioned in this tool to keep all information on the bike life in one place.
eBikeLabs system also allows advanced maintenance operations such as cell-by-cell battery capacity testing with no need to remove any part of the bike.
Riders :
Can get an immediate information on the bike status right on his/her smartphone
In case of long-term rental program the rider is able to communicate with the repair team to fix the problem, order the incriminated part or update the embedded firmware.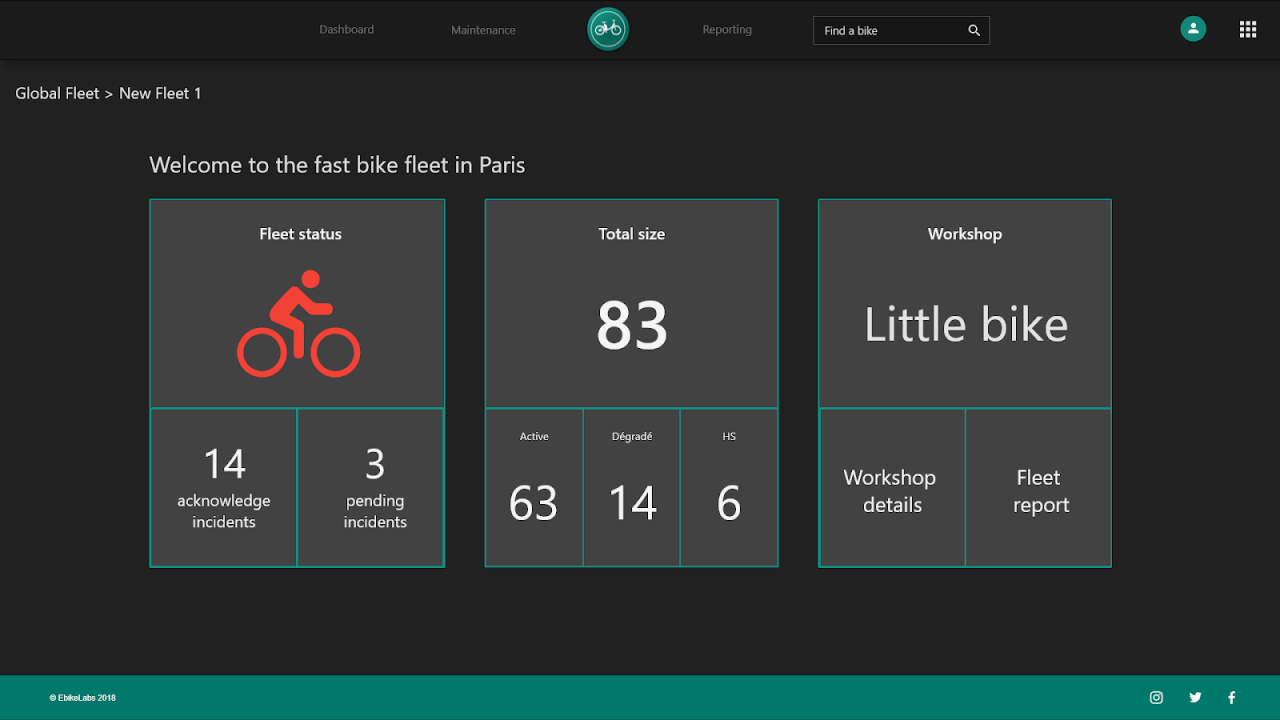 CMMS : A GLOBAL IMPACT ON e-BIKE FLEET OPERATION
More Bike Availability, Remote Maintenance, High and Fast ROI, Happy Riders
Less maintenance shifts, especially on a predictive mode thanks to 24/7 diagnostics of all components
Instant remote view on battery levels : less battery swapping shifts
Immediate backup of a technical problem info collected on a bike
Time saver remote breakdown detection
Datas collecting and reporting
After-sales relationships with suppliers (minimum 2 to 3% of default electrical parts)
eBikeLabs : Leading technology Provider for e-Bike Sharing
How it works :
We replace your controller with eBikeLabs proprietary Smart Controller and make it communicate with your actual battery/drive system/bike
We provide access to our turnkey software applications (maintenance being only one of them)
We provide a possibility to integrate these functionalities into your existing fleet management system.
Should you want to know more on our solution, on what figures we are talking about or maybe consider to implement such technologies in your future e-bike fleet projects, feel free to contact our team.